The best sports court is a hardwood court, but that's only workable indoors! Does this mean your dream of playing on a premium hardwood floor in the open is shattered?
I think not!
Because Copo Sports has come up with something so revolutionary, so unique, and groundbreaking that many are finding it hard to wrap their heads around it!
"Are you saying…?"
Yes, that's exactly what I'm saying! You can now experience premium hardwood sports courts outdoors, but with a twist: It's practically indestructible!
What is it, you ask?
It's durable; it's long-lasting, it doesn't damage your joints and knees, it's Macwood!
So What exactly is Macwood?
Macwood is Copo Sports' premium sport court flooring system that looks and feels just like real hardwood flooring. However, it is devoid of all the drawbacks associated with hardwood flooring, like termite infestation, chipping, cracking, water accumulation, etc.
And that's because of the cutting-edge composite technology and creative structural engineering used in manufacturing Macwood flooring. You see, Macwood comprises 2 parts: The surface layering and the bottom support structure.
Let us break it down for you:
Surface Layering
The top layer of Macwood, or the surface, is made up of synthetic wooden planks, which give Macwood a hardwood-like look and feel. These surface planks are coated with a FIBA-certified seal and finish, or UV-resistant heavy-duty Copo wear layer, which provides excellent traction and appropriate gloss. As a result, the surface is optimally slip-resistant and non-abrasive for a comfortable, safe, and exciting gameplay.
Bottom Support Structure
The bottom support structure of Macwood has 3 further layers to give it strength and durability:
1. Reinforced Plastic Planks
Right below the surface layering of synthetic wooden strips are double-layered reinforced plastic planks laid out vertically and horizontally to form a robust base for the Macwood planks to rest on.
2. Rubber Padding
The reinforced plastic planks sit on top of special resilient rubber padding that helps with the shock absorption feature of the Macwood series.
3. Plastic Height Adjusters
The whole top and bottom support structure of Macwood rests on plastic height or level adjusters that ensure that the surface is even and seamless. These height adjusters range from 1 mm to 15 mm; therefore, if any part of the ground is uneven, You can fit these height adjusters inside to adjust the sports court to an even height throughout.
So you see, Macwood is not just another flooring option out there. It has been manufactured using state-of-the-art technology to change how sports have been played in the past!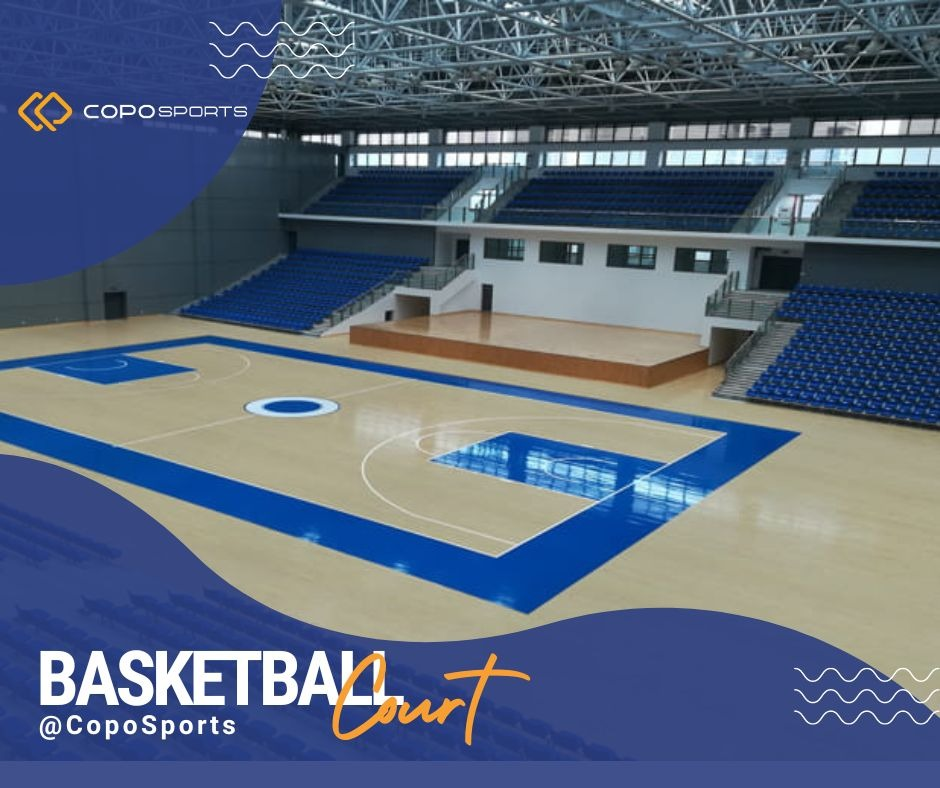 Why Should you Opt for Macwood Instead of Hardwood?
That's a million-dollar question!
Why should you put aside premium hardwood flooring used for decades and opt for something like Macwood that is relatively new? Is it worth the money? Is it worth the risk?
The answer is yes!
While hardwood flooring is ideal for an indoor sports court, it still comes with some loopholes. For instance, the installation is expensive. But, even if we decide not to let the high installation cost be a deal breaker, we can't ignore the fact that it requires frequent maintenance! This includes heavy-duty HVAC systems, recoating, and polishing.
Plus, it is prone to termite infestation, fungus, chipping, and cracking if you go lazy on the maintenance. Getting all these issues fixed is like an additional expense.
And, installing a hardwood floor outdoors is not even an option; because it cannot bear against nature's forces. Rain, harsh UV rays, termites, mildew, and other elements can easily render a hardwood court useless.
So, why should you go for something that requires constant maintenance and keeps coming up with unnecessary expenses when you can easily opt for a one-time expense option, i.e., Macwood?
For starters, you can install Macwood flooring in an indoor court as well as an outdoor court, which makes the dream of playing on hardwood in the open a reality. Secondly, it is low maintenance. We're talking about no high-end machinery, no chemicals, no polishing, no nothing! Just clean it with mild soap and water, and that's all the maintenance it needs!
Moreover, it is anti-fungal, anti-bacterial, and anti-mildew, so you can be assured there's no health risk associated with it.
Do you still need a reason to opt for Macwood over hardwood? I don't think so!
With that, let's have a detailed view of the benefits of the Macwood Flooring System.
Benefits of Macwood Flooring System
Macwood Flooring System has been developed to free you of all the issues and drawbacks of regular hardwood, concrete, and other types of sports court flooring.
Let's take you through everything Macwood has to offer:
1. Low Maintenance
All sorts of sports court flooring require some sort of maintenance to stay in playable condition; however, their maintenance costs are pretty high.
For instance, if you have a premium hardwood sports court, you require HVAC systems to keep the flooring in mint condition. Then it needs regular polishing and high-end machinery to keep the wooden planks clean. Also, in case of termite infestation, which is quite common with hardwood, you need frequent fumigation, and regular use of pesticides and other chemicals to keep the infestation from recurring.
As for concrete flooring, it can easily chip, crack, or give way due to the changing weather.
But, when it comes to Macwood, all these problems will be a thing of the past! We're talking about no heavy machinery, no fumigation, and no chipping and cracking due to weather conditions.
All you need is to clean it with water or a leaf blower. And if there are stains that won't go away, simply give it a scrub with mild soap water, and it's good to go.
2. High Athletic Performance
Macwood Flooring System is designed using advanced material and innovative structural engineering to deliver premium athletic performance. With its shock absorption, rebounce rate, and force reduction, Macwood helps the players stay safe with minimum risk of injury and pressure on joints and knees.
Plus, the surface is treated with a FIBA-certified seal and finish, which provides excellent traction. As a result, it is slip-resistant and non-abrasive, for safe and exciting gameplay!
3. Durable
Macwood is durable, even more than hardwood, concrete, or plastic tiles! Due to the underlayers of the whole system, it can sustain heavy weights without giving in to pressure, or breaking or cracking due to it.
It can withstand all sorts of weather conditions, be it rain, snow, or hail. It is totally unaffected by moisture, does not swell due to water accumulation, and is not prone to termite infestation. Moreover, it has outstanding dimensional stability against thermal strain and deformation.
So, basically no matter what, Macwood can bear all kinds of risks that could damage a regular floor.
4. Kid-Friendly and Hygenic
Macwood is made up of synthetic non-toxic, food-grade material with compliance with EN REACH and ROHS code, making it perfectly safe for kids. Plus, it is antifungal, anti-bacterial, and anti-mildew, so you can be sure that there's no health risk associated with it.
Types of Macwood Flooring System
Copo Sports Macwood Flooring System comes in 3 types based on your requirements: Standard, Pro, and Portable. Let's go through them one by one:
1. Macwood Standard
Macwood Standard Indoor Flooring
Macwood Standard Indoor Flooring is specifically made for indoor sports courts. It meets the requirements of FIBA Level-2 wooden flooring and is the perfect choice for indoor basketball, volleyball, badminton, tennis, and several other indoor sports.
The surface plank of Macwood Standard Indoor flooring is made of special premofibre material that provides a 96% ball rebound rate and reduces force by 55%. For the surface coating, you can choose from the heavy-duty Copo wear layer or the FIBA-certified oil or water-based varnish, for a slip-resistance value of 88 BPN! Plus, it provides sufficient grip and traction to keep injuries and friction burns to the minimum.
Macwood Standard Outdoor Flooring
Macwood Standard Outdoor Flooring is designed for use in outdoor sports courts. It holds the FIBA certificate for Level-1 3×3 & Outdoor court, making your dream of playing on an outdoor hardwood sports court a reality, as it looks and feels just like premium hardwood.
The difference between Macwood Standard indoor and outdoor flooring is the structure of the flooring system. The outdoor flooring system comprises 5 layers including the Macwood PremoFiber surface, 2 layers of sleepers, resilient rubber pads, and a patented plastic height adjuster. All these layers work together to give you outstanding force reduction, ball performance, and grip for competitive gameplay.
2. Macwood Pro
Macwood Pro Indoor Flooring
Macwood Pro Indoor Flooring is your ultimate choice for professional-level indoor sports courts, as it meets the FIBA Level-1 court for wooden flooring.
The standout feature of Macwood Pro Indoor Flooring is the surface floorboard, which is made using innovative reinforced Copo Premofiber and is coated with FIBA-certified varnish. These features give it a 61% area-elastic force reduction that protects the players' knee and joint health.
The bottom structure consists of two-layered reinforced plastic planks, specially-engineered rubber padding, and leveling adjusters of varying thickness. The intricately-designed structural engineering of the Macwood Pro Indoor flooring offers you everything a premium hardwood court gives you, minus the drawbacks.
Macwood Pro Outdoor Flooring
If you're looking for a premium hardwood-like sports court for your outdoor court, Macwood Pro Outdoor flooring is the right choice!
It meets the FIBA Level-1 requirements for wooden court flooring and gives your an NBA-level performance. The synthetic wooden strips on the surface, followed by reinforced plastic planks, rubber padding, and height adjusters give this flooring an excellent shock absorption of almost 61% and a uniform ball bounce rate close to 95%. The surface planks are treated with a UV-resistant heavy-duty Copo wear layer that keeps the surface non-abrasive and slip-resistant by 88 BPN.
With Macwood Pro Outdoor flooring you get top-notch athletic performance with reduced stress on the knees, and minimal risk of skin abrasions, making it the perfect choice for outdoor sports courts.
3. Macwood Portable
If you're having an event or tournament at an outdoor location, the Macwood Portable flooring is exactly what you need!
It's a modular option from the Macwood Flooring System that gives you high-end sports court flooring for temporary use. It is easy to transport, store, and install with maximum reliability and deliverability.
Macwood Portable Flooring is FIBA-certified and is made using robust synthetic and metal components. It offers foolproof durability, so no need to worry about issues caused by factors such as rain, water, chemicals, moisture, fire, etc.
General Specs of Macwood Flooring System
General Application
Basketball court
Volleyball court
Handball court
Badminton court
Pickleball court
Tennis court
Raquetball court
Multisports court
Dance floor
Other sports courts that require traditional hardwood flooring
General Features
Macwood Flooring System has been designed as per the requirements of FIBA; therefore, all types of Macwood Flooring Series are FIBA-certified.
It is made of 100% synthetic wood; however, it looks and feels just like premium hardwood flooring.
The synthetic wooden planks on the surface are made of special reinforced premofiber.
Each flooring system has patented plastic level adjusters to make the court floor smooth and leveled.
You can choose from Copo heavy-duty wear layer or FIBA-certified surface varnish to coat the surface of the flooring.
It has foolproof dimensional stability against temperature changes.
It is super durable against flooding, rainwater, termite infestation, heavy loads, chipping, swelling, cracking, and other risks.
The premofiber planks are made of non-toxic food-grade material in compliance with EN REACH and ROHS codes.
It has anti-bacterial, anti-mildew, and anti-fungal, providing clean and hygienic flooring for sports.
You can personalize the flooring with custom logos, graphics, and color schemes.
Warranty
The Macwood Flooring Series comes with a 15-year warranty.
General Colors
Macwood is available in 3 colors: Dark Maple, Maple, and Light Maple.
Certification of Macwood Flooring System
All the categories of Copo Sports' Macwood Flooring System are FIBA-certified.
– FIBA Certificate for Level 1 & 2 3×3 Outdoor Court
The Macwood Standard Outdoor Flooring by Copo Sports holds the certification for FIBA 3×3 Equipment, which means that it is fit for competition level 1 & 2 sports.
– FIBA Certificate for Meeting Level 1 Wooden Flooring Requirements
Copo Sports' Macwood Standard Indoor Flooring, Macwood Pro Indoor Flooring, and Macwood Portable Flooring are FIBA-certified for meeting the FIBA Level 1 requirements for wooden flooring.
Wrapping Up
Copo Sports is the pioneer in the next generation of sports flooring with its affordable, durable, resilient, and athletically performing sports court flooring. And, its Macwood Flooring System is the premium professional-level flooring option for all kinds of sports that require a traditional hardwood floor.
Investing in Macwood means, a one-time installation cost and almost zero maintenance cost for decades to come!
So, if you're looking for sports court flooring that has all the features of hardwood flooring, but no drawbacks, the Macwood flooring system should be your go-to choice to revolutionize the way sports have been played!